Delegates Of G20 Visited The Hemis Monastery: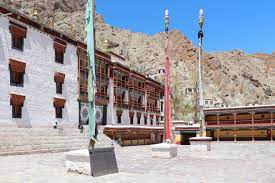 Delegates of G20 visited the Hemis Monastery in Leh and also witnessed the famous Cham dance.
Hemis Monastery is a Buddhist monastery located in Leh City.
It belongs to the Drukpa lineage of Buddhism.
The monastery was first established in the 11th century and later re-established in the 17th century by the Ladakhi King Sengge Namgyal.
It is also famous for its 2-day religious ceremony known as the Hemis Festival.
This festival is celebrated in honour of Padmasambhava which is observed here in
It is the biggest and very richly endowed monastery.