Retail Inflation : Report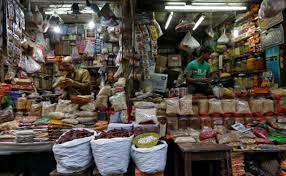 July 2023 witnessed a notable increase in Retail Inflation, reaching 7.44%, creating Goldilocks scenario for India, making investors and savers uncertain about the economic situation.
A Goldilocks Scenario describes an ideal state for an economy whereby the economy is not expanding or contracting by too much.
A Goldilocks economy has steady economic growth, preventing a recession, but not so much growth that inflation rises by too much.
The projected GDP (Gross Domestic Product) growth for 2023-24 is 6.5%, while the benchmark Sensex index stands currently at 65,000 points.
Gold and bank deposit rates, on the other hand, are expected to remain stable in the coming months.
The Reserve Bank of India (RBI) anticipates inflation to stay above 5% until the first quarter of 2024-25, potentially reaching 6.2% in the current quarter (July-Sept) 2023, exceeding the RBI's comfort level of 4%.
Food prices are expected to remain elevated for a few more months. July's data reveals a surge in vegetable prices (37.3%), along with inflation in cereals, pulses (both 13%), spices (21.6%), and milk (8.3%).
It is expected that government interventions and fresh crop arrivals will eventually ease this pressure.
Due to the higher inflation projections, the possibility of a rate cut has been postponed to the next Fiscal Year (2024-25).
The Monetary Policy Committee (MPC) is likely to maintain policy rates in the upcoming meeting, with the first rate cut potentially occurring in the following fiscal year.
Despite inflation and high interest rates, India's market has performed well.
Supported by strong earnings prospects and stable macro conditions, India has outperformed other markets.