Retail Inflation: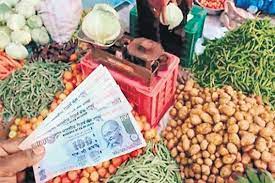 Retail inflation accelerated sharply to 6.95% in March, the fastest pace of price gains in almost a year and a half, and marked the third straight month when inflation exceeded the Reserve Bank of India's tolerance threshold of 6%.
A surge in food price inflation, which quickened to 7.68% from 5.85% in February, combined with rising fuel prices and producers passing on higher commodity prices and input costs to consumers across goods and services to drive the overall Consumer Price Index (CPI)-based inflation print to a 17-month high.
Consumers in rural India faced a higher level of inflation than urban residents, with overall rural inflation 154 basis points higher at 7.66%, as the rural food price index sped past 8% to 8.04% in March, from February's 5.81%.
The uptick in fuel prices and their ripple effects on transport and logistics costs are expected to intensify in April.