'Bharat' Atta(Wheat Flour) : New Initiative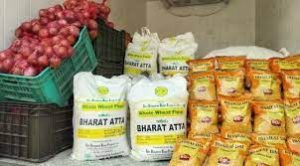 The Indian government has launched the sale of 'Bharat' brand Atta (wheat flour) with a maximum retail price (MRP) of Rs 27.50 per kilogram which is lower than the national average price of Rs 35.93 per kg.
This initiative is part of the government's ongoing efforts to stabilize the prices of essential commodities and provide relief to consumers.
'Bharat' Atta will be available through various outlets, including Kendriya Bhandar, National Agricultural Cooperative Marketing Federation of India Limited (NAFED), and National Cooperative Consumer Federation (NCCF), ensuring its accessibility to a broader consumer base.
NAFED, founded in 1958, is a leading Indian cooperative organization for agricultural product procurement and marketing.
NCCF is an apex organization for consumer cooperatives. It functions under the Ministry of Consumer Affairs, Food and Public Distribution.
Both NAFED and NCCF are registered under the Multi-State Co-operative Societies Act, of 2002.
The efforts to stabilize prices of essential commodities have not only benefitted consumers but also supported farmers by ensuring a fair price for their produce.