REWARD Scheme: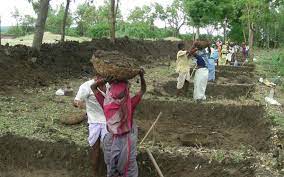 Impressed with Karnataka's performance in the implementation of the Rejuvenating Watershed for Agricultural Resilience through Innovative Development (REWARD) scheme, the World Bank has decided to get agricultural officers from Sub-Saharan countries to visit the State to learn from its experience.
The project aims to help national and state institutions adopt improved watershed management practices to help increase farmers' resilience to climate change, and promote higher productivity and better incomes.
REWARD is being implemented in three to four Indian States for 6 years for:

prevention of soil run-off, regeneration of natural vegetation, rainwater harvesting, and recharging of the groundwater table
Enabling multi-cropping and the introduction of diverse agro-based activities

Karnataka has been identified as a "lighthouse partner" by the World Bank in developing the science-based watershed model.
It is the first State to develop a Land Resource Inventory portal ( the portal will contain the details on the appropriate measures to be taken for different types of land with respect to agriculture, groundwater, crop, and soil health) that has details of 14 lakh hectares of land coming under the project
Watershed Management: The conservation of water and improvement of water quality and conservation of the soil is called watershed management.