Tragedy In Morbi: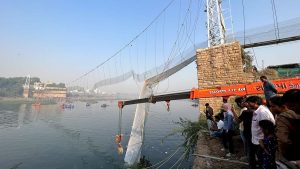 More than 141 people lost their lives when the cable bridge over the Machhu river collapsed in Morbi, Gujarat.
Morbi is a major hub of small and medium industry and India's ceramics factory.
The more than a century old bridge across the Machchhu river has long been a major tourist attraction.
This district is flanked by Kutch district in the north, Surendranagar district in the east, Rajkot district in the south, and Jamnagar district in the west.
Morbi is famous for its ceramic industry.
The district is dotted by several hundred ceramic producing factories, mainly medium and small scale units.
Around 70 per cent of India's ceramics are produced in Morbi, and ceramic tiles manufactured here are exported to countries in the Middle East, East Asia, and Africa.
Machchhu is a small river that rises in the Madla Hills and flows 130 km into the Rann of Kutch.