Risa: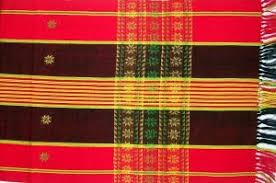 Tripura Chief Minister Biplab Kumar Deb has of late made it his style statement to sport the Risa. The Biplab Deb government is now eyeing to promote Risa as the signature textile of Tripura nationally.
Risa is a customary handwoven cloth used by Tripura's indigenous tribal communities.
The Risa is used as a head gear, stole, female upper cloth or presented to honour a distinguished recipient.
Apart from its beautiful designs, the Risa plays a host of crucial social utilities.
Adolescent Tripuri girls are first given risa to wear when she reaches 12-14 years in an event called Risa Sormani.
It is also used in religious festivals like the Garia Puja, a customary festival of the tribal communities, or as a head turban by male folks during weddings and festivals.
Risa is one of the three parts of a customary Tripuri female attire, the other two being the Rignai and Rikutu.
The Rignai is primarily used to cover lower part of the body and literally translates into 'to wear'.
The Rituku covers the upper half of the body, wrapping it all around. However, it is also used like a 'chunri' or a 'pallu' of the Indian saree. It is also used to cover the head of newly married Tripuri women.