Ramon Magsaysay Award: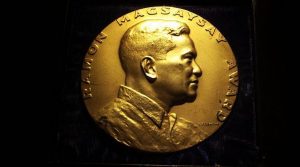 This year's Ramon Magsaysay Award — regarded as the Asian version of the Nobel Prize — were announced.
The winners are:
Indonesian torch bearer for investigative journalism, Watchdoc.
Muhammad Amjad Saqib, a microfinance pioneer from Pakistan,
Filipino fisher and community environmentalist Roberto Ballon,
American Steven Muncy for humanitarian work and refugee assistance and
Firdausi Qadri, a Bangladeshi vaccine scientist,
Ramon Magsaysay award is named after Ramon Magsaysay, the third president (1953-57) of Philippines.
It is given to individuals and organizations in Asia regardless of race, creed, sex, or nationality, who have achieved distinction in their respective fields. (There are some instances where the winners came from Non-Asian countries, but accomplished something in Asia).