RK Laxman: 100th Birth Anniversary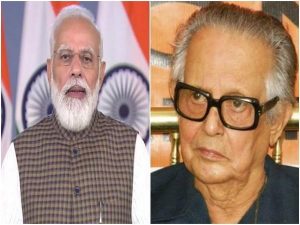 The Prime Minister, Shri Narendra Modi has paid tributes to cartoonist RK Laxman on his 100th birth anniversary.
Rasipuram Krishnaswami Laxman (24 October 1921 – 26 January 2015) was an Indian cartoonist, illustrator, and humorist.
The Common Man is a cartoon character created by Indian author and cartoonist R. K. Laxman.
For over a half of a century, the Common Man has represented the hopes, aspirations, troubles and perhaps even foibles of the average Indian, through a daily comic strip.
The comic was started in 1951.
It became one of the most recognised feature on The Times of India the largest-circulation English language daily broadsheet newspaper in the world.
Laxman also created a popular mascot for the Asian Paints Ltd group called "Gattu" in 1954.
He was awarded Padma Vibhushan (2005) and Ramon Magsaysay Award for Journalism, Literature and Creative Communication Arts (1984).