Rosh Hashanah: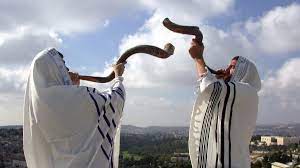 The Prime Minister Modi has extended his warmest greetings to the Prime Minister of Israel, Yair Lapid and the Jewish people around the world on the occasion of Rosh Hashanah.
Rosh HaShanah is the Jewish New Year.
The biblical name for this holiday is Yom Teruah, literally "day of shouting or blasting."
It is the first of the Jewish High Holy Days that occur in the late summer/early autumn of the Northern Hemisphere.
The High Holy Days comprise of Rosh HaShanah Yom Kippur, Pesach, (Passover), and Sukkot.
Rosh Hashanah customs include sounding the shofar, as prescribed in the Torah, following the prescription of the Hebrew Bible to "raise a noise" on Yom Teruah.