RuPay Card : Permit Banks To Issue RuPay Prepaid Forex Cards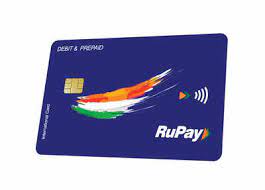 The Reserve Bank of India (RBI), in a bid to broaden the scope of RuPay cards has decided to permit banks to issue RuPay Prepaid forex cards to customers and to issue such cards abroad.
RuPay card is an Indian domestic card scheme conceived and launched by the National Payments Corporation of India (NPCI).
Its mission is to fulfil the Reserve Bank of India's vision of having a domestic, open-loop and multilateral system of payments in India.
It works to enable electronic payment at all Indian banks and financial institutions.
Since the transaction processing will happen domestically, it would lead to a lower cost of clearing and settlement for each transaction. This will make the transaction cost affordable and will drive the usage of cards in the industry.
RuPay, being a domestic scheme is committed towards the development of customized product and service offerings for Indian consumers.
Transaction and customer data related to RuPay card transactions will reside in India.