RuPay Debit Card And BHIM UPI: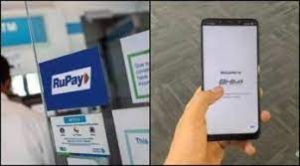 The Union Cabinet announced that it has approved a scheme to provide incentives of small amounts for transactions done through the RuPay Debit Card and BHIM UPI. This will incur an expense of around ₹1,300 crores.
The Government will reimburse transaction charges levied on digital payments made by persons to the merchant as part of the merchant discount rate (MDR)
MDR (Merchant Discount Rate) is basically a fee that a merchant is charged by their issuing bank for accepting payments from their customers via credit and debit cards
In Budget 2020-21, the government prescribed zero Merchant Discount Rate (MDR), the rate merchants pay to scheme providers, for RuPay and UPI, both NPCI products, to popularise digital payments benefiting both customers and merchants.
Digital payments have found strong ground, especially in India, increasingly relegating all other modes of payments to the background.
It is through a faster system of simultaneous debits and credits that the money value is transferred from one account to the other across banks.
It embraces all kinds of operators (including direct benefit transfer by the government) across the country and even internationally, subject to regulatory forbearance.
According to a report, Indian digital payment industry is expected to reach $1 trillion by 2023.