TAPI Gas Pipeline : Joint Implementation Plan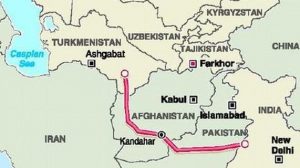 To speed up work on Turkmenistan, Afghanistan, Pakistan, and India (TAPI) gas pipeline project and finish the feasibility study as soon as possible, Pakistan and Turkmenistan recently signed a Joint Implementation Plan (JIP).
TAPI Pipeline is an 1,814-kilometre pipeline that aims to transport 33 billion cubic metres of gas from Turkmenistan to Afghanistan, Pakistan and finally, India.
It is also called the 'Peace Pipeline'.
It will start from the Galkynysh gas field in Turkmenistan.
It will then pass through Afghanistan and Pakistan to finally reach the Indian town of Fazilka(near the Indo-Pak border).
At full capacity, the pipeline will transport 33 billion cubic meters (bcm) of natural gas annually from TKM to respective buyers in AFG (5%), PAK (47.5%) and IND (47.5%) during the 30-year commercial operations period.
The Project comprises the procurement, installation and operation of the pipeline and related facilities within Afghanistan and Pakistan.
The project was originally conceived in the 1990s, and an inter-governmental agreement was signed in 2010 by the heads of four member nations.
A Gas Pipeline Framework Agreement was signed in December 2010, and a bilateral gas sale agreement was signed in May 2013.
In February 2018, a ground-breaking ceremony for Afghanistan's section of the TAPI gas pipeline was held in the western Afghan city of Herat.
The TAPI project is being funded by the Asian Development Bank (ADB), which is also acting as transaction adviser for the development.