Rustom-2: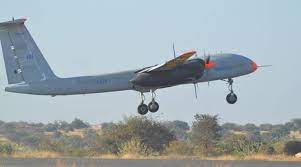 The indigenous medium altitude long endurance (MALE) unmanned aerial vehicle (UAV) is expected to complete all user trials by August 2023
Rustom-2 is also known as Tapas-BH (Tactical Airborne Platform for Aerial Surveillance-Beyond Horizon 201).
It has been designed and developed by the Aeronautical Development Establishment (ADE), Bengaluru, with the production partners being Hindustan Aeronautics Ltd. (HAL) and Bharat Electronics Ltd.
It is powered by a small turbofan engine. The engine is Russian TRDD-50MT originally designed for cruise missiles.
It is being developed to carry out surveillance and reconnaissance (ISR) roles and is capable of carrying different combinations of advanced payload and capable of auto landing, among others.
Its navigation was done using GAGAN satellites through the onboard SATCOM system.
High endurance UAVs are a priority requirement for the Indian armed forces especially in view of the stand-off with China in eastern Ladakh.