Poshan Abhiyaan: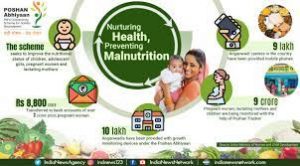 The Government has informed the Lok Sabha that State Governments and Union Territories have utilised only 56% of the total funds released under the Poshan Abhiyan or Nutrition Mission in the past three years.
Out of a total amount of ₹5,312 crore disbursed by the Centre between financial years 2019 to 2021, a sum of ₹2,985 crore was utilised.
The number of "severe acute malnourished" children in the country has become less than 15 lakh.
About Poshan Abhiyaan:
The programme seeks to improve nutritional outcomes for children, pregnant women and lactating mothers.
Launched in 2018 with specific targets to be achieved by 2022.
It aims to reduce:

Stunting and wasting by 2% a year (total 6% until 2022) among children.
Anaemia by 3% a year (total 9%) among children, adolescent girls and pregnant women and lactating mothers.
The target of the mission is to bring down stunting among children in the age group 0-6 years from 38.4% to 25% by 2022.

More than a third of the children under five face stunting and wasting and 40% aged between one and four are anaemic. Over 50% of pregnant and other women were found to be anaemic, said the National Family Health Survey 4 released in 2016.
POSHAN 2.0:
It is an umbrella scheme covering the Integrated Child Development Services (ICDS) (Anganwadi Services, Poshan Abhiyan, Scheme For Adolescent Girls, National Creche Scheme).
It was announced in Union Budget 2021-22 by merging supplementary nutrition programmes and the POSHAN Abhiyaan.
It was launched to strengthen nutritional content, delivery, outreach and outcome, with renewed focus on developing practices that nurture health, wellness and immunity to disease and malnutrition in the country.