Sabarmati River Front Development Phase 2: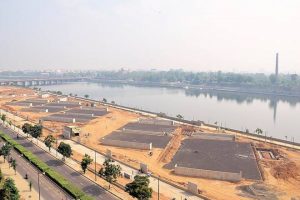 The Ahmedabad Municipal Corporation, in its draft budget for 2021-22, has set aside Rs 1,050 crore for the Sabarmati River Front Development phase 2, work on which is to begin soon.
Sabarmati Riverfront is a waterfront being developed along the banks of the Sabarmati river in Ahmedabad.
Proposed in the 1960s, the construction began in 2005.
The major objectives of the project are environment improvement, social infrastructure, and sustainable development.
By channeling the river to a constant width of 263 m along the part that passes Ahmedabad city, 204 hectares have been reclaimed along the 11-km stretch of the Sabarmati Riverfront in the first phase of the project, on both the banks.
The Sabarmati river is one of the major west-flowing rivers in India.
It originates in the Aravalli Range of the Udaipur District of Rajasthan and meets the Gulf of Khambhat of the Arabian Sea after traveling 371 km in a south-westerly direction across Rajasthan and Gujarat.