Sankalp Se Siddhi: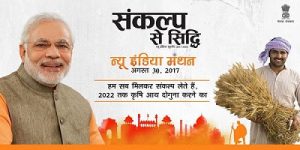 TRIFED under Ministry of Tribal Affairs has now launched "Sankalp se Siddhi" – Village and Digital Connect Drive.
It is a 100-day drive that was stared on April 1, 2021.
The drive will entail 150 teams visiting ten villages each of which 10 in each region from TRIFED and State Implementation Agencies, visiting ten villages each.
The main aim of this drive is to activate the Van Dhan Vikas Kendras in these villages.
The visiting teams will also identify locations and shortlist potential Van Dhan Vikas Kendras for clustering as TRIFOOD, and Scheme of Fund for Regeneration of Traditional Industries- SFURTI units as larger enterprises.
TRIFOOD aims to enhance the income of tribals through better utilization of and value addition to the Minor Forest Produce collected by the tribal forest gatherers.