Sant Kabir Academy And Research Centre : Maghar,Uttar Pradesh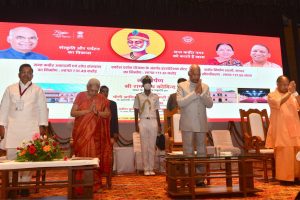 President Ram Nath Kovind recently inaugurated the Sant Kabir Academy and Research Centre under Swadesh Darshan Yojana at Maghar (Uttar Pradesh).
Sant Kabir Das was a very renowned saint, poet and social reformer of India who lived during the 15th century.
His esteemed works and poems describe the greatness and oneness of the Supreme Being.
He was a proponent of the Bhakti Movement.
He did not believe in any religious discrimination and readily accepted all the religions.
A religious community known as 'Kabir Panth' was founded by him and the members of this forum are referred to as 'Kabir Panthis'.
Swami Ramananda influence: Kabir Das' ideologies were greatly influenced by Vaishnava saint Swami Ramananda who accepted Kabir as his disciple.
His famous literary works:

Bijak, Sakhi Granth, Kabir Granthawali and Anurag Sagar.
His verses are found in Sikhism's scripture Guru Granth Sahib.
The major part of his work was collected by the fifth Sikh guru, Guru Arjan Dev.
The hallmark of Sant Kabirdas' work consists of his two line couplets, popularly known as 'Kabir Ke Dohe'.