Leaders In Climate Change Management Program: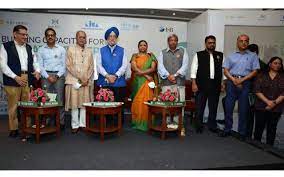 In conjunction with the World Environment Day that was observed on June 5, the National Institute of Urban Affairs (NIUA) and World Resources Institute (WRI) India, jointly announced 'Leaders in Climate Change Management' (LCCM), a practice-based learning program.
To facilitate this face-to-face learning program, the Administrative Training Institute (ATI), Mysuru, also singed a tripartite Memorandum of Understanding (MoU) with NIUA and WRI India, becoming the first delivery partner of the LCCM program.
LCCM envisions capacitating 5,000 professionals, including mid to junior-level government officials and frontline workers, and preparing them to champion climate change adaptation and mitigation solutions towards a coordinated effort to achieve India's climate commitments.
At COP26 last year, Prime Minister Narendra Modi proposed a five-fold strategy – Panch Amrit – to global leaders, extending India's co-operation to meet the 1.5 degrees Celsius targets.
The LCCM program, designed and implemented in partnership with the United Nation Environment Programme (UNEP) and Indian School of Business (ISB), aims to strengthen India's workforce to achieve this goal.