Saryu Canal National Project: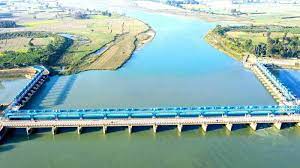 Prime Minister Narendra Modi will inaugurate the Saryu Canal National Project in Balrampur district of Uttar Pradesh.
The project involves interlinking of five rivers – Ghaghara, Saryu, Rapti, Banganga and Rohin.
The Saryu Canal National Project starts from the Saryu Barrage at Bahraich.
The main canal is 318 km long and many sub canals with a length of over 66 hundred kilometres have been linked to it.
The project has been completed at a cost of around 10,000 crore rupees, of which around 50 percent funds were made available in the last four years.
The project will provide assured water for irrigation purposes for over 14 lakh hectares of land and will benefit about 29 lakh farmers in over 6200 villages.
It will benefit nine districts in Eastern Uttar Pradesh – Bahraich, Shravasti, Balrampur, Gonda, Siddharthnagar, Basti, Sant Kabir Nagar, Gorakhpur and Maharajganj.