AVGAS 100LL: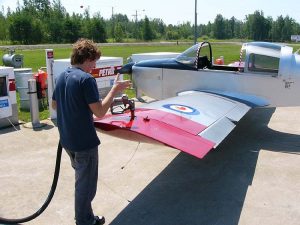 The Centre on Monday launched indigenously-developed AVGAS 100 LL, a special aviation fuel meant for piston engine aircraft and unmanned ariel vehicles.
The fuel has been developed by Indian Oil Corporation.
Avgas or aviation gasoline is an aviation fuel that powers spark-ignited combustion engines in aircraft.
It is different from conventional gasoline (petrol) used in motor vehicles as it contains tetraethyl lead, which is a highly toxic substance used to prevent engine knocking (premature detonation).
It is a higher-octane Aviation fuel meeting the product specifications with superior performance quality standards, as compared to imported grades.
The indigenous availability of AV GAS 100 LL will help reduce dependence on imports and address the associated logistical challenges.
Country will be able to save precious foreign exchange with the in-house availability of this product.