Scheme For Expansion And Modernization Of Fire Services In The States: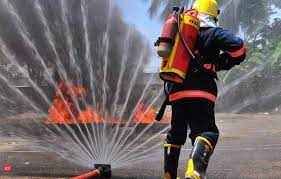 The Ministry of Home Affairs, Government of India has launched a "Scheme for Expansion and Modernization of Fire Services in the States (SEMFSS)" under the National Disaster Response Fund (NDRF) for strengthening fire services in the States.
The Scheme finds its origin from the recommendation of the Fifteenth Finance Commission (XV-FC) which allows an allocation of 12.5 % of each of the NDRF and State Disaster Response Fund (SDRF) for the Funding Window of Preparedness and Capacity Building.
The objective of the scheme is to expand and modernize Fire Services in the States with a view that activities for strengthening of fire services at the State-level through preparedness and capacity-building components of the NDRF will be ensured.
Out of the total NDRF corpus, an amount of Rs. 5,000 Crore was earmarked for priority "Expanding and Modernization of Fire Services".
The amount of Rs. 500 crores, out of the total outlay, has been kept for incentivizing the States on the basis of their legal and infrastructure-based reforms.
For seeking funds for the projects/proposals under the Scheme, the concerned State Governments shall have to contribute 25% (except for the North-Eastern and Himalayan (NEH) States which shall contribute 10%) of total cost of such projects / proposals from their budgetary resources.