Mushkbudji Rice : Geographical Indication (GI) Tag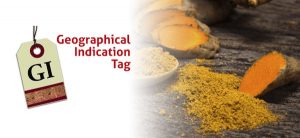 Mushkbudji Rice received the Geographical Indication (GI) tag.
Mushkbudji Rice is short bold aromatic rice grown in higher reaches of Kashmir valley.
The cooked rice is unique and possesses a harmonious blend of taste, aroma and rich organoleptic properties.
It is mainly is grown in areas of Sagam, Panzgam and Soaf Shali of district Anantnag and Beerwah belt of district Budgam.
The consumption of aromatic rice in Kashmir has now been limited to special occasions, marriages, and festivals.
Geographical Indication Tag:
It is a sign used on products that have a specific geographical origin and possess qualities or a reputation that are due to that origin.
This is typically used for agricultural products, foodstuffs, wine and spirit drinks, handicrafts and industrial products.
The Geographical Indications of Goods (Registration and Protection) Act, 1999 seeks to provide for the registration and better protection of geographical indications relating to goods in India.
This GI tag is valid for 10 years following which it can be renewed.