SAFF Championship 2023: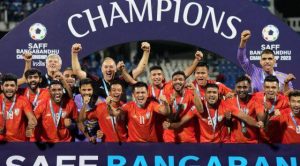 India marked a remarkable victory in the South Asian Football Federation (SAFF) Championship 2023 held in Bengaluru, Karnataka, securing their ninth title by defeating Kuwait in a thrilling football match.
The SAFF Championship is an internationally recognized football tournament that brings together teams from the South Asian subcontinent. Organized by the South Asian Football Federation (SAFF), one of the five sub-confederations under the Asian Football Confederation (AFC).
SAFF was formed in 1997 by founding Member Associations from Bangladesh, India, Maldives, Nepal, Pakistan and SriLanka.
The SAFF Secretariat currently operates from Dhaka, Bangladesh.
Founding members: India, Pakistan, Sri Lanka, Bangladesh, Nepal, and Maldives.
Bhutan joined in 2000, while Afghanistan became a member in 2005 before moving to the Central Asian Football Association (CAFA) in 2015.