6th Edition Of Exercise SCO Peaceful Mission 2021: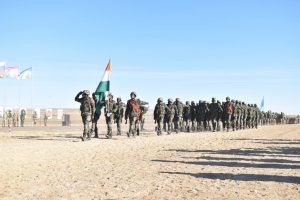 Indian Military Contingent recently participated in the 6th Edition of Exercise SCO Peaceful Mission 2021 at Orenburg, Russia.
Exercise SCO Peaceful Mission:
Joint Counter Terrorism Exercise PEACEFUL MISSION is a Multilateral Exercise, which is conducted biennially as part of military diplomacy between Shanghai Cooperation Organisation (SCO) member states.
The aim of the exercise is to foster close relations between SCO member states and to enhance abilities of the military leaders to command multi-national military contingents.
The exercise will enable sharing of best practices between the Armed Forces of SCO nations.
About the Shanghai Cooperation Organisation (SCO):
It is a permanent intergovernmental international organisation.
It's creation was announced on 15 June 2001 in Shanghai (China) by the Republic of Kazakhstan, the People's Republic of China, the Kyrgyz Republic, the Russian Federation, the Republic of Tajikistan, and the Republic of Uzbekistan.
It was preceded by the Shanghai Five mechanism.