Sedition Law: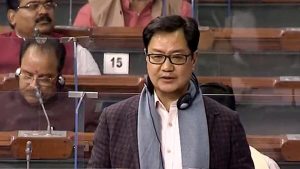 The Ministry of Home Affairs (MHA) has clarified that there is no proposal under consideration to scrap Section 124A of the Indian Penal Code (IPC) that deals with sedition.
The sedition law has been indiscriminately used against critics, journalists, social media users, activists and citizens for airing their grievances about the governments COVID-19 management, or even for seeking help to gain medical access, equipment, drugs and oxygen cylinders, especially during the second wave of the pandemic.
Section 124A of the IPC states, "Whoever, by words, either spoken or written, or by signs, or by visible representation, or otherwise, brings or attempts to bring into hatred or contempt, or excites or attempts to excite disaffection towards, the government established by law in shall be punished with imprisonment for life, to which fine may be added, or with imprisonment which may extend to three years, to which fine may be added, or with fine."
The sedition law has been in controversy for far too long. Often the governments are criticized for using the law — Section 124-A of the Indian Penal Code (IPC) — against vocal critics of their policies.
Therefore, this Section is seen as a restriction of individuals' freedom of expression and falls short of the provisions of reasonable restrictions on freedom of speech under Article 19 of the Constitution.
The law has been in debate ever since it was brought into force by the colonial British rulers in 1860s. Several top freedom movement leaders including Mahatma Gandhi and Jawaharlal Nehru were booked under the sedition law.