Karbi Anglong Agreement: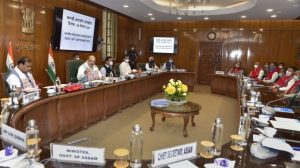 A tripartite agreement among five insurgent groups of Assam, the Centre and the state government was signed.
This agreement is in synergy with the vision of Insurgency free prosperous North East, that envisages all-round development of northeast, peace and prosperity.
Highlights of the Karbi-Anglong Peace Agreement:
Karbi Outfits Surrendered: 5 militant organizations (KLNLF, PDCK, UPLA, KPLT and KLF) laid down arms and more than 1000 of their armed cadres have given up violence and joined the mainstream of society.
Special Development Package: A special development package of Rs. 1000 crore will be allocated over five years by the Central Government and the Assam Government to take up special projects for the development of Karbi areas.
More Autonomy to KAAC: This agreement will transfer as much autonomy as possible in exercising their rights to the Karbi Anglong Autonomous Council, without affecting the territorial and administrative integrity of Assam.
Overall, the present agreement proposes to give more legislative, executive, administrative and financial powers to the KAAC.
Rehabilitation: A provision has been made in this agreement to rehabilitate the cadres of armed groups.
Development of Local People: The Government of Assam will set up a Karbi Welfare Council to focus on the development of the Karbi people living outside the KAAC area.
This agreement will also ensure the protection of the culture, identity, language, etc. of the Karbi people and all-round development of the region.
The Consolidated Fund of the State will be amended to meet the resources of the KAAC.