Global Fintech Fest 2023: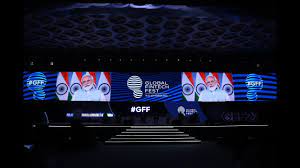 The Union Finance & Corporate Affairs Minister addressed the Global Fintech Fest 2023 in Mumbai.
The importance of global cooperation in addressing threats to the Global Financial Ecosystem is highlighted.
India Under the G20 Presidency has sought for global cooperation and collaboration in the areas where we have continued challenges.
Global Fintech Fest (GFF) is the largest fintech conference, jointly organized by the National Payments Corporation of India (NPCI), the Payments Council of India (PCI), and the Fintech Convergence Council (FCC).
Aim is to provide a singular platform for fintech leaders to foster collaborations and develop a blueprint for the future of the industry.
GFF is a platform where policymakers, regulators, industry leaders, academics, and all major FinTech ecosystem stakeholders converge once a year to exchange ideas, share insights, and drive innovation.
GFF'23 Theme: Global Collaboration for a Responsible Financial Ecosystem.
The theme of GFF 2023 highlights the critical need for global collaboration to build a financial ecosystem that is inclusive, resilient, and sustainable.
Fintech:
Fintech (Financial technology) is used to describe new technology that seeks to improve and automate the delivery and use of financial services.
The key segments within the FinTech space include Digital Payments, Digital Lending, BankTech, and Cryptocurrency.
FinTech spans various sectors, including education, retail banking, fundraising, nonprofit, and investment management, making it a rapidly growing industry with significant business expansion and job creation.