Shift In Snowfall To Rainfall : Study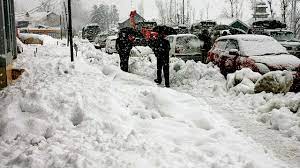 According to a recent study, the Himalayas Mountains and other mountains across the Northern Hemisphere are likely to see 15 per cent more rain for every 1-degree Celsius rise.
Key Findings of the report:-
Climate change could cause a shift in snowfall to rainfall in mountain regions across the Northern Hemisphere, amplifying rainfall extremes lasting over a few hours to a day.
For 2 degrees and 3 degrees rise, the world would see a 30 per cent and 45 per cent increase in rain,
This switch from snowfall to rainfall could increase the risk of disasters such as floods, landslides, and soil erosion.
Not all mountain regions are at high risk.
The Himalayas and the North American Pacific Mountain ranges, including the Cascades, Sierra Nevada, and coastal ranges from Canada to Southern California are more threatened than the Rockies or the Alps.