Droupadi Murmu : 15th President Of India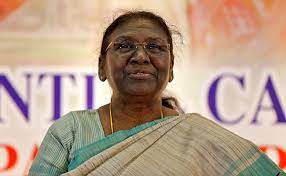 Former Jharkhand Governor and National Democratic Alliance (NDA) candidate Droupadi Murmu was elected the 15th President of India, the first tribal woman to be appointed to the position and the youngest as well.
After four rounds of polling, Ms. Murmu received 2,824 votes of 6,76,803 value, while Yashwant Sinha

received 1,877 votes of 3,80,177 value.

She received 64.03% of the total valid votes polled, much more than what was openly declared in her support and pointing to the fact there had been a lot of cross-voting in Ms. Murmu's favour from the Opposition ranks.
Murmu, who had been a former Governor of Jharkhand, hails from the Santhal tribe and was born in Mayurbhanj, coming up the hard way in life, graduating and teaching in Odisha before entering politics at the local body level and later being elected MLA and serving as a Minister from 2000 to 2004.
She holds the record of being the only Governor of Jharkhand till date to complete a full tenure, and was known to intervene in stopping amendments to the Chota Nagpur Tenancy Act that was being brought in by the BJP government of Raghubar Das, which involved changing land use in tribal areas.