e-Shram Portal: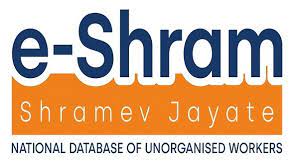 The government said around 28 crore unorganised workers have been registered on e-Shram Portal.
In a written reply in Lok Sabha, Minister of State for Labour and Employment Rameswar Teli said the government had launched e-Shram portal in August last year with an objective to create a national Database of unorganised workers.
It also facilitates delivery of Social Security Schemes and Welfare schemes to the unorganised workers.
He said the Centre is also implementing Prime Minister Street Vendor's Atmanirbhar Nidhi (PM SVANidhi Scheme) since 1st June 2020 to facilitate collateral-free working capital loan to street vendors to restart their businesses, which were adversely impacted during the Covid-19 pandemic.
Mr Teli said over 33 lakh loans amounting to above three thousand six hundred crore rupees have been disbursed to over 30 lakh beneficiaries under the scheme till 11th of this month.