Soul of Steel Challenge: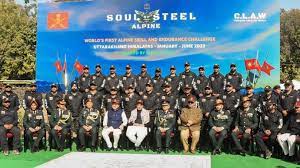 Defence Minister Rajnath Singh recently kick-started the 'Soul of Steel' alpine challenge, an initiative to promote tourism in border areas, at an event in Dehradun coinciding with Veterans Day.
The 'Soul of Steel' expedition will test one's high-altitude endurance and adventure in Uttarakhand's Garhwal Himalayas.
It will initially have 12 Indian participants plus six international teams, between the age group of 18 and 30 years.
The challenge will be spread across three months.
It is being organized by CLAW Global, an entity comprising a group of veterans.
The Indian Army is supporting the adventure challenge.
It is based on the lines of the 'Ironman triathlon', a long-distance triathlon held in Europe which tests an individual's physical capabilities.
Participants will be selected through a detailed screening and training model through traditional and modern standards.
The initiative is aimed at enabling life skill training and youth development.
It is also expected to boost global promotion of adventure tourism in Uttarakhand.