Special Campaign On Disposal Of Pendency In Government Of India: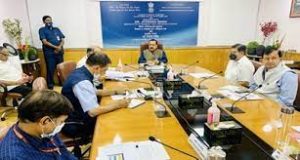 Union Minister of Personnel, Public Grievances, Pensions launched a dedicated Portal for Special Campaign on disposal of pendency in Government of India during the period 2nd October to 31st October, 2021.
The Special Campaign is aimed at ensuring timely and effective disposal of Public Grievances, References from Members of Parliament, State Governments, Inter-Ministerial Consultations and Parliamentary Assurances by each Ministry/Department and its attached/subordinate offices during the campaign period.
During this special campaign, files of temporary nature may be identified and weeded out as per the extant instructions and redundant scrap material and obsolete items may be discarded to improve cleanliness at work places.
Department of Administrative Reforms & Public Grievances (DARPG) will be the nodal Ministry to monitor the implementation to this campaign.
Over 2 lakh cases of pending Public Grievances and 4.5 lac physical files for weeding have been identified for disposal in the campaign. The cleanliness campaign will be undertaken in 2179 campaign sites and 301 rules/ processes have been identified for simplification.