Himalayan Gray Langur: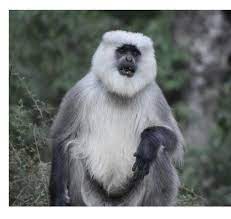 According to a study, changes in altitude make the Himalayan Gray Langur – a primate species – pick between flowers and fruits as dietary options beyond usual leaves in the same Himalayan habitat.
The Himalayan Gray Langur or the Chamba Sacred Langur (Semnopithecus ajax) is a colobine (leaf-eating monkey) and is an Endangered species globally on the IUCN Red List.
They inhabit areas between 2,200-4,000 metres and in the Indian Subcontinent, their distribution is reported from Himachal Pradesh, Jammu and Kashmir and from Pakistan and Nepal.