India To Be a Part Of Artemis Team: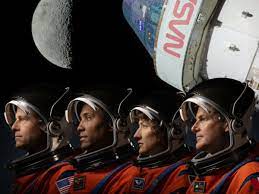 A top NASA official recently said that India needs to be a part of the Artemis team, which brings like-minded countries together on civil space exploration.
The Artemis Accords are a non-binding set of principles designed to guide civil space exploration and use in the 21st century.
These principles will help to ensure the maintenance of a safe and predictable outer space environment.
NASA, in coordination with the U.S. Department of State, established the Artemis Accords in 2020, together with seven other founding member nations.
Artemis Accords signatories as of May 30, 2023: Australia, Bahrain, Brazil, Canada, Colombia, Czech Republic, France, Israel, Italy, Japan, Luxembourg, Mexico, New Zealand, Nigeria, Poland, the Republic of Korea, Romania, Rwanda, Saudi Arabia, Singapore, Spain, Ukraine, the United Arab Emirates, the United Kingdom, and the United States.
With the Artemis programme, NASA aims to land humans on the moon by 2024, and it also plans to land the first woman and first person of colour on the moon.
With this mission, NASA aims to contribute to scientific discovery and economic benefits and inspire a new generation of explorers.