Spot-Billed Pelicans: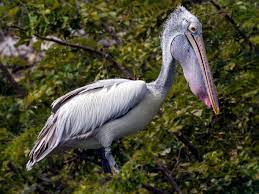 A nematode infestation has led to mass mortality of spot-billed pelicans (Pelicanus philippensis) at Telineelapuram Important Bird Area (IBA) in Naupada swamp of Srikakulam district in Andhra Pradesh.
Over 150 spot-billed pelicans have succumbed to the infestation since December. Only adult birds have succumbed to the infestation till date.
Until now, in South India, the Telineelapuram IBA is the prime winter sojourn for the spot-billed pelican for breeding. The same IBA is also a breeding habitat for the painted stork (Mycteria leucocephala).
The nematode infestation would not spread from one species to another species as per the studies carried out by the experts in Karnataka State.
The spot-billed pelican is capable of hunting huge fish from the water bodies and swamps and thus, it is vulnerable to infestation.
Thousands of spot-billed pelicans and a few hundred painted storks migrate from the Siberian region to breed in the Telineelapuram IBA and a majority of them prefer to stay here instead of going back home.