Dadasaheb Phalke Award: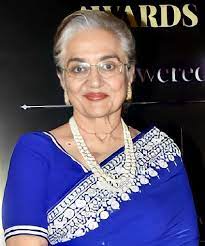 Legendary actress Asha Parekh will be honoured with Dadasaheb Phalke Award for the year 2020.
Asha Parekh is a renowned film actress, director and producer and an accomplished Indian classical dancer.
She is also a winner of Padma Shri, which was awarded to her in 1992.
She has also served as the head of Central Board for Film Certification from 1998-2001.
The Dadasaheb Phalke Award is India's highest award in the field of cinema.
It is presented annually at the National Film Awards ceremony by the Directorate of Film Festivals, an organisation set up by the Ministry of Information and Broadcasting.
The recipient is honoured for their "outstanding contribution to the growth and development of Indian cinema".
The award comprises a Swarna Kamal (Golden Lotus) medallion, a shawl, and a cash prize of ₹1,000,000.
The award was introduced by the Government of India to commemorate Dadasaheb Phalke's contribution to Indian cinema, who is popularly known as and often regarded as "the father of Indian cinema".