State Animal And Bird: Ladakh: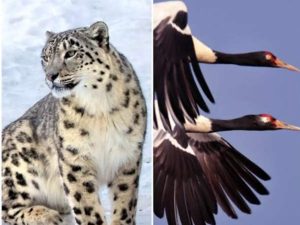 Ladakh has adopted Snow Leopard and Black-Necked Crane, as State animal and State bird, two years after it was carved out as a separate Union Territory (UT) from the erstwhile State of J&K (Jammu and Kashmir).
Snow Leopard:
Snow leopards (Panthera uncia) act as an indicator of the health of the mountain ecosystem in which they live, due to their position as the top predator in the food web.
Protection Status:

IUCN: Vulnerable.
CITES: Appendix I
Wildlife (Protection) Act 1972: Schedule I

It is also listed in the Convention on Migratory Species (CMS), affording the highest conservation status to the species, both globally and in India.
Black-Necked Crane:
The black-necked crane (Grus nigricollis), also known as Tibetan crane, is a large bird and medium-sized crane.
Both the sexes are almost of the same size but male is slightly bigger than female.
A conspicuous red crown adorns the head.
Protection Status:

IUCN Red List: Near Threatened
CITES: Appendix I
Indian Wildlife (Protection) Act, 1972: Schedule I