Gogra: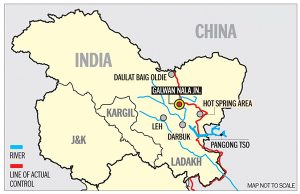 Villagers have lost access to a vast grazing area near Gogra in eastern Ladakh owing to growing Chinese presence in the area.
Gogra is one of the several friction points in eastern Ladakh where Indian and Chinese troops have been engaged in a stand-off since April-May 2020.
The troops have disengaged from the north and south banks of the Pangong Tso and Gogra sector, creating "no zones" in areas along the undemarcated Line of Actual Control (LAC) that was regularly patrolled by Indian troops prior to April 2020.
The Army had stopped the villagers' access to the Kiu La pass that was till a few years ago frequented by the villagers of Lukung, Phobrang and Yourgo for cattle-grazing.
Since April 2020, Chinese troops have blocked Indian troops from reaching at least 10 patrolling points (PPs) in eastern Ladakh — running from Depsang plains in the north to the Pangong Tso lake in the south.