"State of India's Birds, 2023″ Report: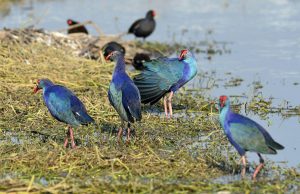 The "State of India's Birds, 2023″ report reveals a widespread decline in most bird species across the country, with some currently declining and others projected to decline in the future.
Key Findings:
Raptors, migratory shorebirds, and ducks have experienced the most significant declines.
However, several species like the Indian Peafowl, Rock Pigeon, Asian Koel, and House Crow are thriving and increasing in both abundance and distribution.
The assessments, based on data from around 30,000 birdwatchers, indicate that 60% of the 338 species with identifiable long-term trends have declined, while 36 species have increased.
Specialist bird species, which inhabit specific habitats like wetlands and rainforests, are facing rapid declines, while generalist species capable of adapting to various habitats are faring better.
Long-distance migratory birds, such as those from Eurasia and the Arctic, have suffered significant declines, while resident species remain more stable.
Birds with diets focused on vertebrates and carrion have seen notable declines, potentially due to harmful pollutants present in these food resources.
The report emphasizes the decline of species endemic to the Western Ghats and Sri Lanka biodiversity hotspots.