State Of The World Special Address: World Economic Forum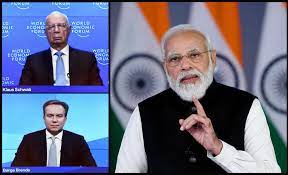 The Prime Minister Narendra Modi delivered 'State of the World' special address at the World Economic Forum's Davos Agenda.
The Prime Minister said that today, India is providing record number of software engineers. More than 50 lakh software developers are working in India.
As compared to mere 100 start-ups in 2014, India has more than 60 thousand start-ups today. Out of which 80 are unicorns and more than 40 unicorns emerged in 2021 itself.
He also talked about the India's huge, safe and successful digital payments platform and informed that in the last month itself more than 4.4 billion transections took place through Unified Payments Interface.
India has deregulated areas like Drones, Space, Geo-spatial mapping and has brought reforms in the outdated telecom regulation related with the IT and BPO sectors.
The Davos Agenda 2022
The Davos Agenda virtual event offers the first global platform of 2022 for world leaders to come together to share their visions for the year ahead.
The week long virtual event, taking place on the World Economic Forum website and social media channels 17-21 January 2022, will feature heads of state and government, CEOs and other leaders.