Su-30MKI Fighter Aircraft: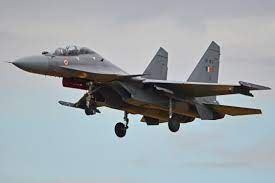 Having taken delivery of all Su-30MKI fighter aircraft and the deal for contracting 12 more Su-30s meant to replace those lost over the years deferred against the backdrop of the Ukraine war, the Indian Air Force (IAF) is working to speed up the long-delayed upgrade of these frontline fighters.
The Sukhoi Su-30MKI is a twinjet multirole air superiority fighter developed by Russia's Sukhoi and built under licence by India's Hindustan Aeronautics Limited (HAL) for the Indian Air Force (IAF).
A variant of the Sukhoi Su-30, it is a heavy, all-weather, long-range fighter.
The IAF is looking to add new weapons, avionics and sensors and engines on the Su-30MKIs to keep them contemporary for the next few decades.
India had procured 272 Su-30s from Russia, a majority of which were assembled by HAL and around 11 jets were lost.
The IAF has 12 Su-30 squadrons in service, and 40-50 aircraft are at HAL for overhaul repairs, officials said.