P-8I Patrol Aircraft: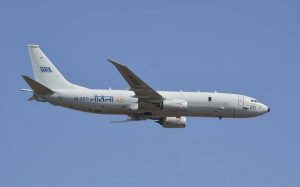 The US State Department has approved the sale of six P-8I patrol aircraft and related equipment to India.
The six aircraft will come fitted with encrypted systems, as India has signed the Communications Compatibility and Security Agreement (COMCASA) with the US.
The Defence Acquisition Council approved the procurement of the aircraft in 2019.
About the P-8I Aircraft:
It is a long-range maritime reconnaissance and Anti-Submarine Warfare Aircraft.
It is a variant of the P-8A Poseidon aircraft that Boeing company developed as a replacement for the US Navy's aging P-3 fleet.
With a maximum speed of 907 kmph and an operating range of over 1,200 nautical miles, the P-8Is detect threats and neutralize them if required, far before they come anywhere near Indian shores.
Indian Navy became the first international customer for the P-8 aircraft in 2009.