C-295 Transport Aircraft: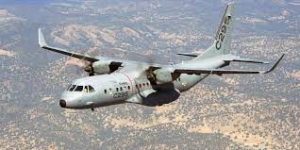 Prime Minister of India has laid the foundation stone for the C-295 transport aircraft manufacturing facility in Vadodara to be set up by Airbus Defence and Space S.A., Spain and Tata Advanced Systems Limited (TASL).
This is the first time a private sector company would be manufacturing a full aircraft in the country.
The C-295 is a transport aircraft of 5-10 tonne capacity with contemporary technology.
Robust and reliable, it is a versatile and efficient tactical transport aircraft which can perform a number of different missions.
The aircraft, with a flight endurance of up to 11 hours, can carry out multi-role operations under all weather conditions.
It can routinely operate day as well as night combat missions from desert to maritime environments.
It has a rear ramp door for quick reaction and para dropping of troops and cargo. Short take-off/land from semi-prepared surfaces is another of its features.
It will replace the Indian Air Force's ageing fleet of Avro-748 planes.
The Avro-748 planes are a British-origin twin-engine turboprop, military transport and freighter with a 6-tonne freight capacity.