Sultanpur National Park : Visit Of G20 Delegates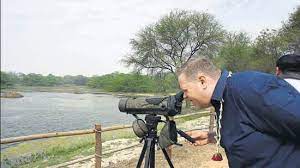 The G20 delegates recently visited the Sultanpur National Park, which is one of the 75 Ramsar sites in the country.
Sultanpur National Park, formerly known as Sultanpur Bird Sanctuary, is located in the Gurgaon district in Haryana.
It is spread over 1.42 sq km, comprising mainly wetlands.
This national park is a major habitat for aquatic birds, including migratory and resident birds.
It was notified as a Ramsar site, a wetland of international importance, in 2021.
Vegetation: Tropical and dry deciduous.
Flora: Grasses, dhok, khair, tendu, ber, jamun, banyan tree, neem, berberis, Acacia nilotica and Acacia tortilis.
Fauna: More than 320 species of birds have been recorded from the Park.
This is a very important wintering ground for waterfowl.