Kanger Valley National Park: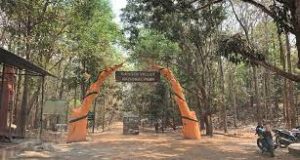 Around 200 bird species were documented during the Kanger Valley Bird Survey in state's first-ever systematic inter-state bird survey.
It is located in the state of Chhattisgarh.
The name of Kanger Ghati National Park is derived from the Kangar river, which flows in its length.
Kanger Valley got the status of a national park in the year 1982.
Kanger Valley National Park is a typical mixed humid deciduous type of forest, in which the Sal, Saugaun, teak and bamboo trees are available in abundance.
The most popular species in this area is Bastar Maina (The state bird of Chattisgarh).
Bastar Maina, is a type of Hill maina (gruncula Dhariosoa), which is capable of emulating the human voices.
This National Park is home to three exceptional caves – famous for their amazing geological structures of Kutumbasar, Kailash and Dandak- Stellagmites and Stalactites.
National Park is known for the presence of underground limestone caves with dripstone and flowstone.
Tirathgarh Waterfall is located in Kanger Valley National Park.