The Vande Bharat Mission::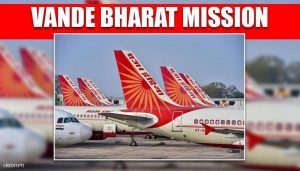 The Vande Bharat Mission (VBM), which started repatriating Indians stranded abroad due to Covid-19 and the resultant lockdowns since May 2020, has become one of the largest evacuations of civilians by a country.
Vande Bharat Mission (VBM):
It is the biggest civilian evacuation exercise to bring back Indian citizens stranded abroad amidst the coronavirus-induced travel restrictions.
It has surpassed the large-scale airlift of 1,77,000 people in 1990 at the onset of the Gulf War.
The mission is undergoing its 10th phase and has carried 32 lakh passengers approximately both inbound and outbound.
National carrier Air India, along with its budget carrier Air India Express (AIE) carried out the bulk of air transfers under the mission.
AIE used its fleet to lift agricultural products, mainly fruits, and vegetables (the most sought-after items among the NRI Indians), to West Asian countries, Singapore and Kuala Lumpur.
Besides, helping distressed rural farmers and the NRIs, the aim of the mission is to keep the supply chain intact.
While overseas Indians from as many as 93 countries have availed repatriation through the VBM, the government has entered into special travel arrangements called 'air travel bubbles' with 18 different countries so far.
Transport bubbles or air travel arrangements are temporary arrangements between two countries aimed at restarting commercial passenger services when regular international flights are suspended as a result of the pandemic.
It allows carriers of both countries to fly passengers either way without any restrictions.
Reciprocal in nature, the bilateral pact aims to benefit airlines from both countries with faster repatriations.
Due to a recent spurt in Covid-19 cases in the country and many countries of late, patronage has come down in the VBM flights.