Supreme Court Dismissed Aadhaar Review Petitions: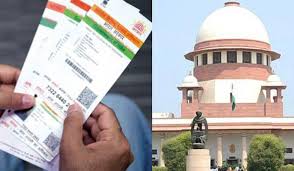 The Supreme Court (SC) has dismissed petitions seeking a review of its 2018 judgment upholding the constitutional validity of the Aadhaar Act (2016).
In 2018, the SC upheld the country's biometric identity system and also cleared mandatory Aadhaar enrolment of recipients of government welfare benefits.
The court, in its verdict, had also approved the passage of Aadhaar law by the Parliament as a money bill, which did not require an approval of the Rajya Sabha.
Thereafter, review petitions were filed against the judgement.
Issue Involved:
Whether the decision of the Lok Sabha Speaker under Article 110 (3) of the Constitution to certify a bill as a money bill under Article 110 (1) is final and binding or can be subject to judicial review.
If the decision is subject to judicial review, whether the Aadhaar Act, 2016 has been correctly certified as a money bill.
SC's Ruling:
Majority Decision:
Majority of the bench (i:e 4 out of 5) held that "no case for review" of the 2018 judgment was made and dismissed the petitions.
The 2019 judgment in Rojer Mathew v South Indian Bank Ltd was not sufficient to press for a reconsideration of the 2018 Aadhaar judgment.
Rojer Mathew v South Indian Bank Ltd 2019:
The judgment in this case said that the speaker's decision was not beyond judicial review though the scope was extremely restricted.
It had also said that the 2018 Aadhaar verdict had not answered conclusively the question as to what constitutes a money Bill under Article 110 (1) and had directed that it be referred to a larger Bench which has not been constituted yet.
Dissenting Judgment:
One of the five judges dissented with the majority view and said that the 2019 judgment questioning the correctness of the Aadhaar verdict was a relevant fact and that the apex court must wait for the larger bench of seven judges to decide these pertinent issues.
He also referred to the Sabarimala case where a nine-judge Bench in February 2020 had referred certain questions of law arising in the context of an earlier decision by a five-judge Bench in September 2019 to a larger Bench while keeping the review petitions pending.
He held that it is a constitutional error to hold at this stage that no ground exists to review the judgment and it would have serious consequences not just for judicial discipline, but also for the ends of justice.
Final Judgement:
Even as one of the five judges on the bench termed it a "constitutional error," the SC by a majority verdict has dismissed a clutch of petitions seeking a review of its 2018 judgment that validated the Aadhaar Act.