Sustainable Development Goal (SDG) 12: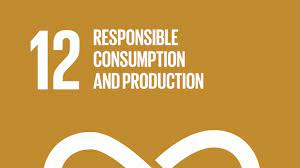 India's progress in regard to the Sustainable Development Goal (SDG) 12 is fair enough but not satisfactory.
SDG12 aims at ensuring responsible consumption and production patterns everywhere in the world.
Sustainable consumption and production refers to "the use of services and related products, which respond to basic needs and bring a better quality of life while minimizing the use of natural resources and toxic materials as well as the emissions of waste and pollutants over the life cycle of the service or product so as not to jeopardize the needs of future generations".
About SDG 12:
Halving global food waste per capita and ensuring the efficient and sustainable use of natural resources by 2030.
Fighting pollution, reducing the overall waste generation, and improving the management of chemicals and toxic wastes.
Supporting companies' transition to green infrastructures and practices.
Making sure everyone everywhere is fully informed of ways to live in harmony with nature and eventually adopts thoughtful habits.