Akshardham Temple : UK Prime Minister Visit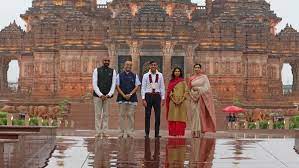 UK Prime Minister recently visited the Akshardham Temple in Delhi.
The Akshardham Temple, officially known as the Swaminarayan Akshardham Temple, is a Hindu temple complex located in Delhi, India.
It is Located on the banks of the Yamuna River.
It was officially opened to the public on 6th November 2005.
It was inaugurated by the then President of India Dr. A.P.J. Abdul Kalam.
Akshardham Temple God is Bhagwan Swaminarayan (1781- 1830). However, it is also dedicated to great saints, devas and averts of Hindu Gods.
It comprises of the main temple, beautifully laid out gardens, exhibitions, open courtyards and water bodies, each section presenting an intriguing aspect of Hindu religion and spirituality.
Constructed with pink sandstone and marble, Akshardham Mandir is the centre of the Akshardham Temple complex.
It is built in the traditional Hindu architectural style.